The inspiration underlying my pictures, comes from many sources – be it from current political events or from encounters with purely aesthetical elements. Places I have stayed, seem to leave strong imprints on me. Australia, Andøya and Alabama have a certain roughness and resilience to them. This I find appealing. There are also intriguing layers and frictions to be found here. Much of my art is inspired by the people and the nature I have encountered whilst living in these places.
ENCAUSTIC PAINTING
"In 1955 the American painter Jasper Johns, aged 25, produced a series of American flags. He used an old medium, pigment mixed with wax; the result was a fine old-masterly richness that upstaged the dribbling and staining of the Abstract Expressionists and their successors." (Lynton, Norbert, The story of modern art, Phaidon, London, 1995, p. 283.)
Encaustic Painting has been around for a very long time. The Fayum Portraits, the oldest surviving encaustic paintings, where made during the first tree hundred years AD. Literary sources, like Homer´s Iliad and Pliny the Elders´s Natural History, indicate that this technique might even be older than that. (Gallagher, Kristen, Discoveries in Encaustic: A Look through History, Meredith College, 2010)
An encaustic painting is made up of layers of hot wax on a surface. The wax might have pigment mixed in with it. Each new layer of wax is fused into the layer under it.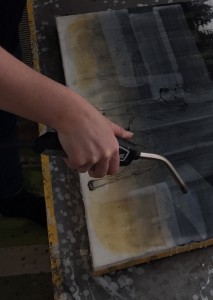 My pieces can be classified as Encaustic/Mixed Media. I also use graphite powder, ink, oil sticks and paper in my pictures. Richard Frumess, the founder of R&F Handmade Paint, has eloquently pointed out that  "More than any other paint, encaustic is a collaborative medium,". (Falkenstein, M. Creating Unusual Paints, and Teaching Artists How to Use Them. The New York Times, December 31, 2006)
Why Encaustic Painting feels right for me: I have always been fascinated by wax works that I have encountered in different galleries. Being a tactile person, it has been a challenge for me to keep my hands off these pieces. The process of making Encaustic Art is one that I enjoy immensely. It is very direct and hands on, from the smashing of the resin to the melting of the wax and the different techniques that can be used. As a child, I used to melt candy at my grandmother´s. I used to take the "kamferdrops", which have a very nice amber color, and melt them over a candle. My tool, to hold the candy with, was an old claw tong for sugar. These drip-pictures, in different shades of amber, were even framed by my encouraging gran. Melting the golden beeswax, in order to create something on a surface, feels very much like coming home.
ACRYLIC AND OIL
I prefer acrylics over oil, but I use water-based oil in my paintings as well. The latter feels closer to acrylics than to traditional oil paint, and you can achieve both a glossy or a drier finish using it.